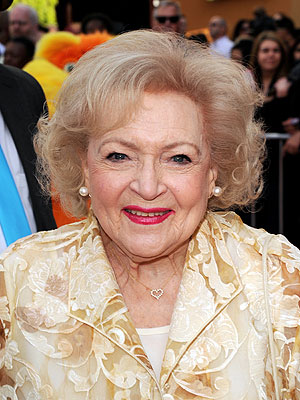 At 90 years old, Betty White says she feels "so good and energetic" – but she doesn't owe her health to good habits.
"I should follow better eating health rules," the Hot in Cleveland star admits saying. "But hot dogs and Red Vines and potato chips and French fries are my favorite foods." But White doesn't owe all of her well-being to plain luck.
"I have a two-story house and a very bad memory," she says, jokingly. "I'm up and down those stairs all the time."
All laughs aside, White explains, "There's no spare time, so I'm active all the time. I think that forces you to stay well. To be 90 … and still be working – that's what I wouldn't have expected. I'm the luckiest broad on two feet."
Aside from her acting duties on TV Land's hit show, the former Golden Girls star is busy as the spokesperson for Tide, with her "break the rules of white" campaign.
White, who did a live stream on the laundry detergent brand's Facebook page on Aug. 23, says she doesn't do her own laundry, but enjoys being connected to the product because she's "a good spiller."
"The whole idea is that you can wear white without worrying about it," she says, adding with a chuckle, "Tide's whole new campaign is white and bright, and with a [last] name like White, they were stuck with me."