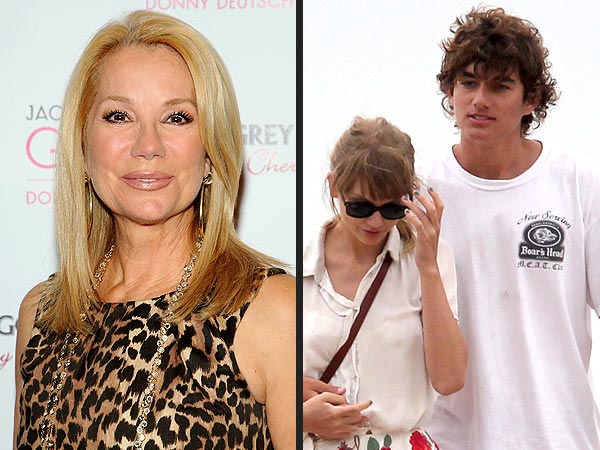 On Thursday's Today show, Kathie Lee Gifford confirmed what the Boston Herald reported Wednesday: Conor Kennedy and his girlfriend Taylor Swift crashed the wedding of Kyle Kennedy in Boston last Saturday.
"The truth, because I was there," Gifford said on television, "[is that] Vicki, [my husband] Frank's daughter's account of what happened in Boston is accurate."
Kathie Lee, the step-grandmother of the bride, explained that Conor was invited to the wedding but failed to RSVP and, instead, texted the bride's mother, Victoria Gifford Kennedy, right before the ceremony and asked to attend.
"He got in touch with her an hour earlier and said, basically, 'Can I bring my girlfriend?' " Gifford explained. "[It was] a beautiful sit-down dinner that had been planned for months."
Nevertheless, the pair showed up at the wedding, says Kathie Lee.
A source close to the bride and groom says "It was kind of weird, and the family felt like they couldn't do anything."
Still, says Gifford, Conor and Swift, whom she said was waiting in the hallway for her boyfriend, did eventually leave. "[Conor] came out and took [Swift] by the hand and they left," said Kathie Lee. "So, I didn't know there was any drama going on at the time."
So, why were the two asked to leave? As Gifford's Today co-host Hoda Kotb put it: "When Taylor Swift walks into your wedding, she gets all the attention and you're chopped liver."
Meanwhile, Conor and Swift did return to dance at the reception. ("At that point [the bride and groom] didn't care," says the source.)
And Kathie Lee adds, perhaps the Grammy winning singer didn't know she committed a faux pas.
"I'm not sure she didn't know she wasn't invited," says Gifford.
Swift's rep, Paula Erickson, told the Boston Herald that the singer was indeed invited to the wedding and "the bride thanked her profusely for being there."