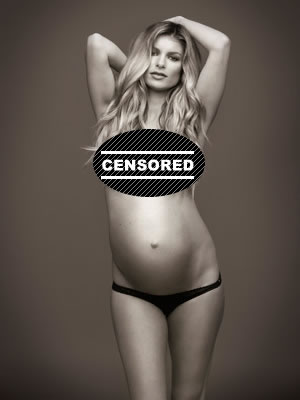 Victoria's Secret angel Marisa Miller is getting bigger in her pregnancy but she is not afraid to show off her curves. Saying she's due "basically any minute", the model happily posed almost naked with her baby bump for Allure magazine.
"I always felt, even before I got pregnant, that it's better to accentuate your curves," Miller said in an interview with the magazine. "A lot of women try to tuck their butt in or kind of slouch because they're trying to hide. Obviously, you can't suck it in, but it's important to really show off the belly."
Her advice to all pregnant women out there, "Embrace everything and all the changes." She reasoned, "I had never even owned a scale before, but gaining weight is part of charting your progress. Yes, I was seeing numbers I'd never seen before, but I let go of that because I had a new goal and focus. It's an adjustment, but it helps having a lot of positive support."
This will be Miller's first child with her husband Griffin Guess. She revealed back in July that they are expecting a baby boy. "Griffin is my everything. We've been married for a little over six years now," she gushed about her hubby and talked about how excited they were to welcome the baby. "Griffin and I have spoken so much about having babies throughout our marriage. We already have enough names for three kids, haha! It's always been a time we really looked forward to."